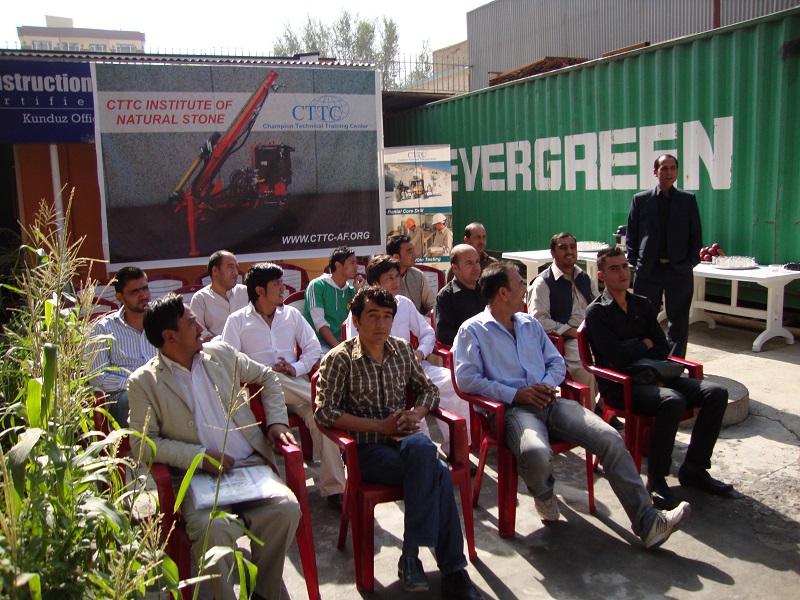 CTTC Institute Of Natural Stone
Schijndel Our new CTTC institute of Marble breaks ground in February with classes starting roughly March with our first class of twenty five Students.
Atlantis We anticipate six vocational classes and four Technical Classes. This is one part of training with the second part being quality work experience. Classes will feature a complete background in education of mining techniques, practical education and field experience.
The vocational classes will acquaint you with the needs, opportunities and skills needed in this growing field estimated to have a growth need of 12,000 – 15,000 employees over the next five in the Islamic Republic of Afghanistan. This field is estimated to have an employment need of between 12000 and 15000 new trained individuals. Two features of CTTC Institute of Natural Stone are our Certified Marble Testing Lab and our "Quarry Voyager" for onsite Marble exploration
The Establishment of The Marble Quality Testing Center
Increase the competency of the Afghan marble industry, raising the quality standards and create a greater awareness of product quality and increased profitability. At the same time, establishing accreditation standards that assure the continued competency of the marble products industry and recognize the companies that achieve them.
Increase the consistency of mining and processing practices by promoting consistent quality specifications, workmanship, and the current ASTM standards for the various marble products.
In broad terms, to protect the consumer by providing access to companies that are reliable with respect to quality of marble mining, product processing and sale of natural stone products (granite and marble).
To enhance the industry's commitment to the beauty, durability and value of marble products and increase the profitability of Afghan marble for Afghan firms.
Visit By USAID/ASMED To CMTC Material Testing Lab
ASMED team visited us in our new lab facility on 14th of Mar, 2012. CMTC after successful laboratory testing services in Kunduz city, has established a new Material Testing Company in Kabul main office. The lab was visited by the ASMED team who expressed their great interest in supporting CMTC new lab with the marble samples and the training in Marble Sample taking. The CTTC Natural Stone Director (shown in picture operating the Marini Coredrill) briefed the team on the capabilities of this new Lab and operated the machines (click for pictures). CTTC/CMTC Director Mr. Mohammad Zaman expressed their plan to expand the activities to start the trainings for the new trainees in this Marble industry.
The team was briefed about the tests that are performed in this new facility by the experienced Lab engineer Mr. Syed Shahid Ali Chishty. He is a great asset as having more then 20 years experience in the Material Testing equally being active in his field in Pakistan and Afghanistan.
After successful completion in Northern Areas, now CMTC is providing the following tests:
SOIL TESTING
AGGREGATE TESTING
CONCRETE TESTING
ASPHALT TESTING
WATER TESTING
STEEL TESTING
MARBLE TESTING
GEO-TECHNICAL SOIL INVESTIGATION SERVICES
Call us: 0700237665
Know us: www.cttc-af.org
Email us: info@cttc-af.org
Find us: House# 555, opposite old UN Compound, East Shirpoor Square,1003, Kabul, Afghanistan